Feb. 04, 2023
Welded Wire Mesh Panels are made of high quality steel wire welded by fully automatic welding machines, with a flat and robust surface and a choice of different mesh holes and wire diameters to suit different applications. They can be assembled with square posts, peach posts and columns to form fences that can be used on roads, parks, houses, factories, airports, prisons etc.
There are 3 types of welded wire mesh panels, including Flat welded Mesh Panel, 3d fence panel, 358 fence panel.
● Flat Welded Mesh Panel

Flat Welded wire mesh panels are made from high quality low carbon steel wire or stainless steel wire and will then be dipped galvanised, PVC Coated or powder coated. The welded joints are strong, not easy to open the weld, the mesh surface is flat, the mesh holes are even, and the corrosion resistance is strong, not easy to rust, and has a long life.

● 3D Fence Panel

3D Fence Panel is welded by high quality steel wire, because this kind of fence panel has 2-4 curves, so it is also called curved mesh panels, this fence panels are more reinforced than ordinary welded mesh panels because of the triangle curved, 3D fence panels can be connected with different posts, such as, peach-shaped posts, square posts, rectangular posts, round posts, etc. Composition fence, known as 3D security fence. mainly used to protect residential, stadium, warehouse, highway or airport service area, railway station and other areas, it has the characteristics of beautiful, strong and durable, not restricted by the terrain, easy to install.

● 358 Fence Panel

358 fence panels, so named because of their 3" * 5" mesh holes and 8 gauge wire, are uniquely constructed to prevent climbing and cutting damage from common tools. HG Fencing company offers a wide range of 358 fencing in a variety of sizes, with mesh and wire diameters that can be adjusted to suit your needs. 358 fencing is mainly used for high security protection in factories, airports, prisons etc. in high security areas such as factories, airports and prisons.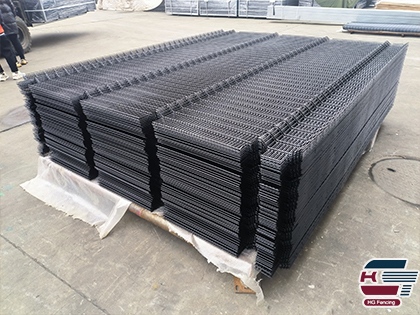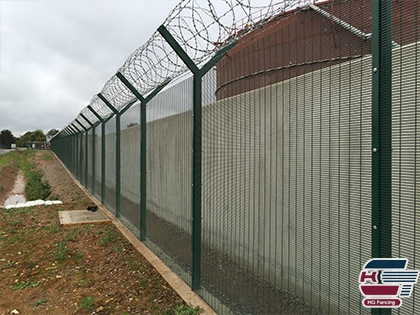 ANPING COUNTY HUA GUANG WIRE MESH PRODUCTION CO., LTD is a company that has passed the "IS09001:2000 Quality Management System Certification". We have 30 large automatic mesh welding machines, 4 large automatic steel construction mesh welding machines, 4 robot welding lines, as well as 2 automatic PVC spraying and dipping lines and 4 automatic galvanizing lines, etc. We can provide custom production of various types of welded wire mesh.