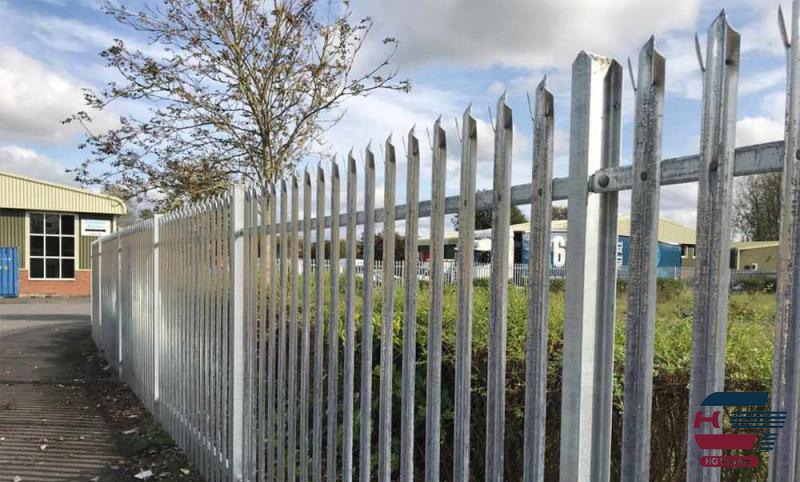 Palisade Fence Introduction
Palisade Fence is made of hard steel plate rolled without mesh and frame structure, it is beautiful, durable and very easy to transport and install. Steel Palisade Fence with a wide variety of colors to choose from, many countries have used it to replace the traditional brick walls and heavy wire fences and wooden fences, palisade fences are widely used in yards, garden, airports, factories, ports of entry etc.
• Palisade fences are easy to install, saving labor and installation costs, it is modular, allowing easy replacement of damaged parts.

• Because palisade fences is made of steel plates, the product is very strong and durable and can last for more than twenty years.

• HG Fencing company provides a complete set of fence, including matching accessories as well as technical guidance.

• If you need a free sample of Steel Palisade fence, please Click Here.
Palisade Fence Detail Specification
Technical Parameters of Palisade Fence
Specification of Palisade Fence
W section Pale:70mm

Height

Width

Pale Thickness

Qty:Pale

Cross Rails

Square post

H Post

1.8m

2.75m

2/2.5/3mm

17pcs

40×40×4mm
50×50×6mm
60*60mm
80*80mm
100*100mm

100×55mm

2.1m

2.75m

2/2.5/3mm

17pcs

2.4m

2.75m

2/2.5/3mm

17pcs

3.0m

2.75m

2/2.5/3/3.5mm

17pcs

W section Pale:62mm

1.8m

2.75m

1.5/2/2.5mm

17pcs

40×40×4mm
50×50×6mm
60*60mm
80*80mm
100*100mm

100×55mm

2.1m

2.75m

1.5/2/2.5mm

17pcs

2.4m

2.75m

1.5/2/2.5mm

17pcs

3.0m

2.75m

1.5/2/2.5mm

17pcs

D section Panel:65mm

1.8m

2.75m

1.5/2/2.5/3mm

17pcs

40×40×4mm
50×50×5mm
60×60mm
80x80mm
100x100mm

100×55mm

2.1m

2.75m

1.5/2/2.5/3mm

17pcs

2.4m

2.75m

1.5/2/2.5/3mm

17pcs

3.0m

2.75m

1.5/2/2.5/3mm

17pcs
Surface Treatment of Palisade Fence
• Hot dipped galvanized Steel Palisade Fence: through the Hot dipped galvanizing process after welding, a protective layer is formed on the steel surface. This coating can effectively prevent oxidation corrosion and prolong the service life of steel.
• PVC coating (Plastic Coating) or Powder Coating Steel Palisade Fence: we choose high quality powder for spraying, which combines with the galvanized layer on the steel surface to form a more effective protective layer. It can better prevent the steel from oxidation and corrosion, Therefore, our fencing system can stay beautiful and strong for a longer time, and this treatment will make the fence more beautiful.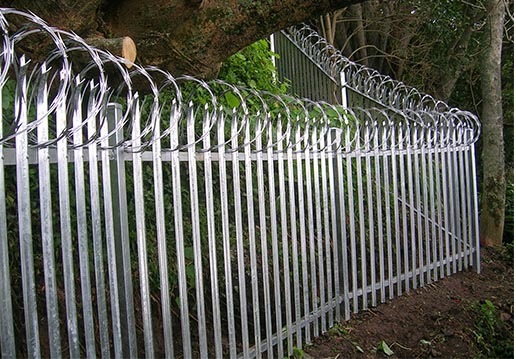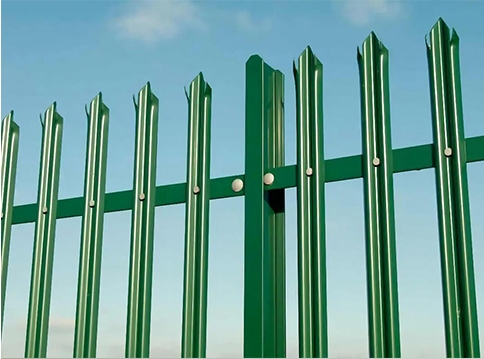 Popular Colors of Palisade Fence
RAL 6005 green, RAL 7016 grey, RAL 9005 black are common colors, all RAL colors can be customized.

Details Images of Palisade Fence

Palisade Pales Detail Specification
Pslisade pales section
There are three section types of palisade fence pales, including angle section fence, W section fence, D section fence.
• Angle Section: Fixed by long bolts, suitable for general security scenes, factory protection, power station protection, etc., also known as steel tower fence.


• D section: Bolted or welded to the railing, can be used for residential protection, power station protection, etc.,

Head Types of Palisade Pales

Palisade fence pales are available in various types of heads to prevent intruders from creeping into the area.
Head types of W section and section pales of palisade fence including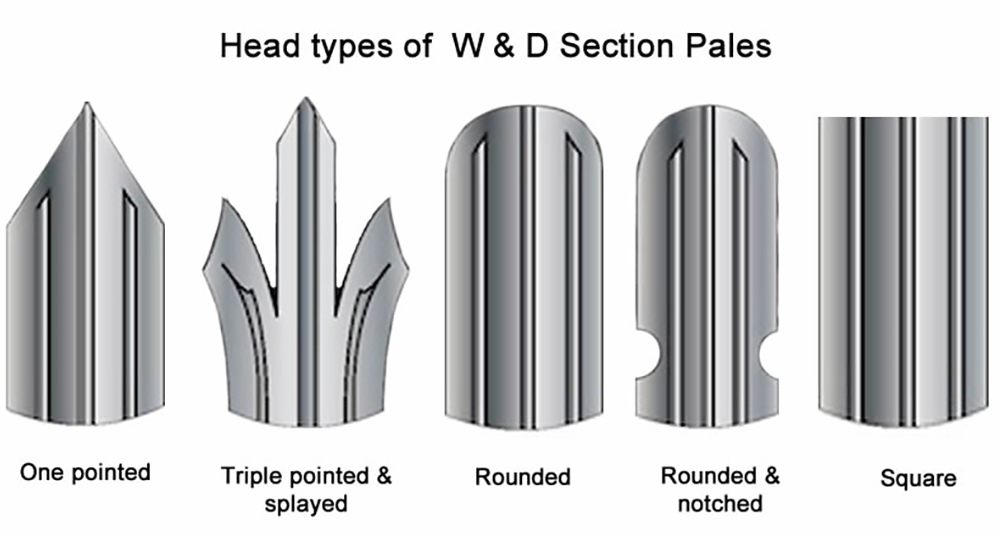 Palisade fence post
Palisade fence post type


Palisade Fence Post Installation
• Buried in earth or concrete.

• Bolted on concrete foundation.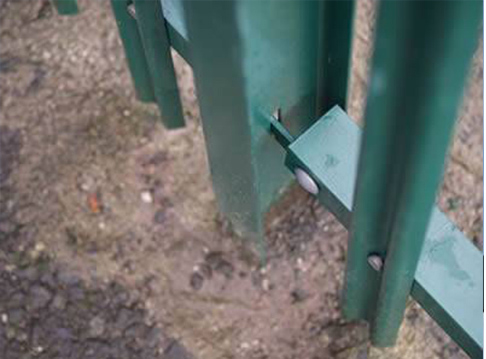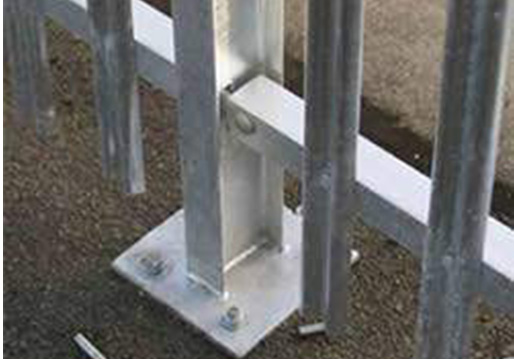 Palisade Fence packing
• Galvanized Steel Palisade Fences: will be placed on iron or wooden pallets, tied with iron strapping, and the edges of the fence will be protected with cardboard. Finally, wrapped with plastic wrap.

• PVC & Powder Coated Steel Palisade Fences: Each, or every five tightly wrapped with plastic film, placed on iron pallets, or wooden pallets, the top and bottom covered with a whole wooden board, protection, and finally fixed with a wide iron strapping, to ensure that the transport will not be shaken, friction caused by palisade fence pales damage.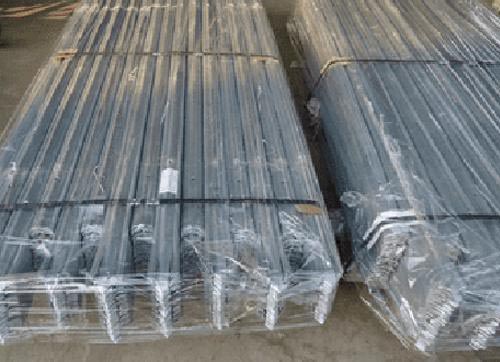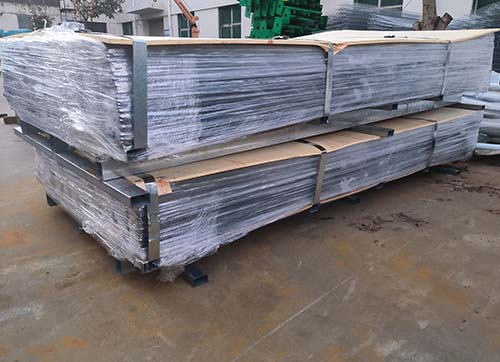 Palisade Fence Application
Palisade Fence has a wide range of applications and can be used arround your homes, factories, parks, municipalities, etc. Barbed wire or razor wire can be installed on top of the fence to improve the security of the fence.
HG Fencing Company also provides palisade fence gates for customers, palisade fence gates designed to be aesthetically pleasing and functional, like the palisade panels, and we also offer a wide range of door accessories.