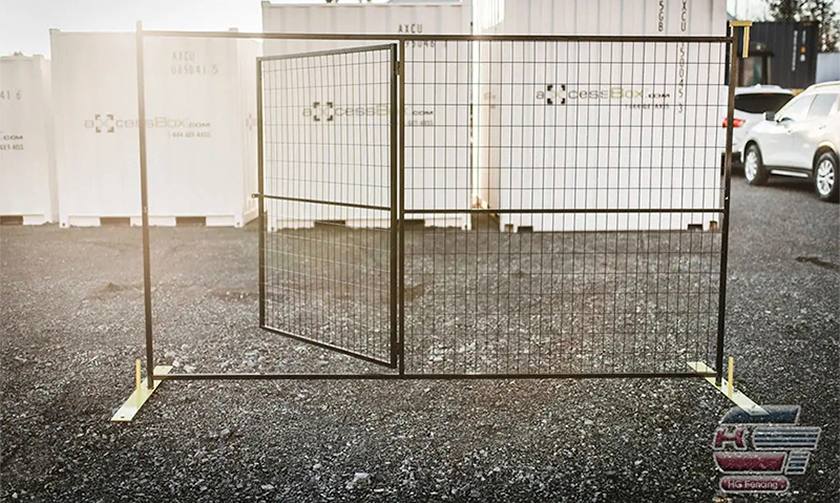 Description of Canada Temporary Fence
Canada Temporary Fence is made up of welded metal mesh panels and square tubes. There is a square tube in the middle of the welded mesh panel to support it and make it stronger. The surface treatment can be PVC coated, powder coated, galvanized or paint sprayed for good corrosion resistance. It is an excellent temporary fence, very easy to install and move, no need to damage the road by digging holes or laying foundations.

Features of Canada Temporary Fence
* Canadian Temporary Fence has a square top that can be fitted with barbed wire brackets.

* Although these temporary fence panels are used for temporary purposes, they are still very resilient and durable.

* Temporary fence panels are very easy to install, remove and can be easily transported and stored.

* Canada temporary fence panels are reusable, simple in construction and low in cost.
Specification of Canada Temporary Fence
Technical Parameters:
Components
Description

Temporary fence wire

3.0mm; 3.5mm; 4.0mm; 4.5mm, etc.

mesh size

50*200mm; 75*150mm; 50*150mm; 60*150mm, etc.

Temporary fence popular size

1800*2900mm,1800*2950mm

, etc.

Frame size

20*20*1.5mm, 25*25mm*1.5mm, 30*30*1.5mm

, etc.

Temporary fence base size

90*600*5.0mm or 100*762*5.0mm

, etc.

Temporary fence steel clamp

150*150mm

Surface treatment

hot dipped galvanized or powder coated after welded or

paint sprayed etc.

Other lengths, widths and specifications can be customized.
Surface Treatment of Canada Temporary Fence:
1. Hot Dipped Galvanized Canada Temporary Fence
Through the Hot dipped galvanizing process after welding, a protective layer is formed on the steel surface. This coating can effectively prevent oxidation corrosion and prolong the service life of steel.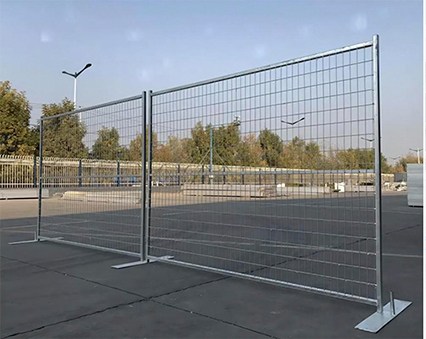 2. PVC Coating Canada Temporary Fence(PVC Coating ) or Powder Coating Canada Temporary Fence.
We choose high quality powder for spraying, which combines with the galvanized layer on the steel surface to form a more effective protective layer. It can better prevent the steel from oxidation and corrosion, Therefore, our fencing system can stay beautiful and strong for a longer time, and this treatment will make the fence more beautiful.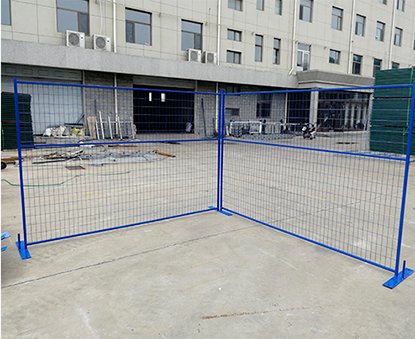 Popular Colors of Canada Temporary Fence
RAL 6005 green, RAL 7016 grey, RAL 9005 black are common colors of Canada Temporary Fence, all RAL colors can be customized.
Details of Canada Temporary Fence
1 set of Canada Temporary Fence = 1 fence panel + 1 fence feet + 1 top clip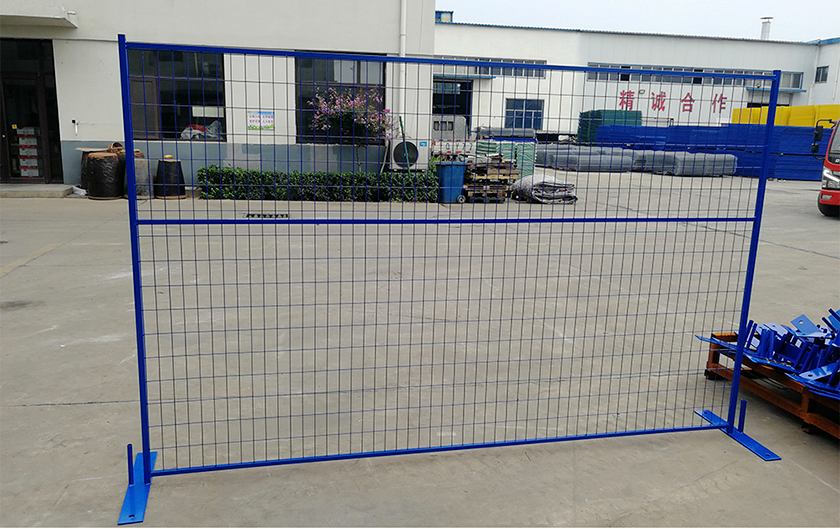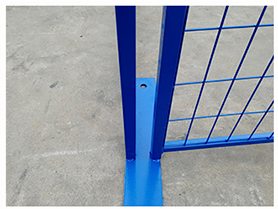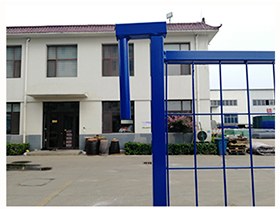 Production of Canada Temporary Fence
The high-strength galvanized wire is straightened and cut, welded into mesh by automatic mesh welding machine, and at the same time, the frame is welded with galvanized pipe. Then welded together again, after sanding, pickling, powder coating, and finally packing the temporary fence.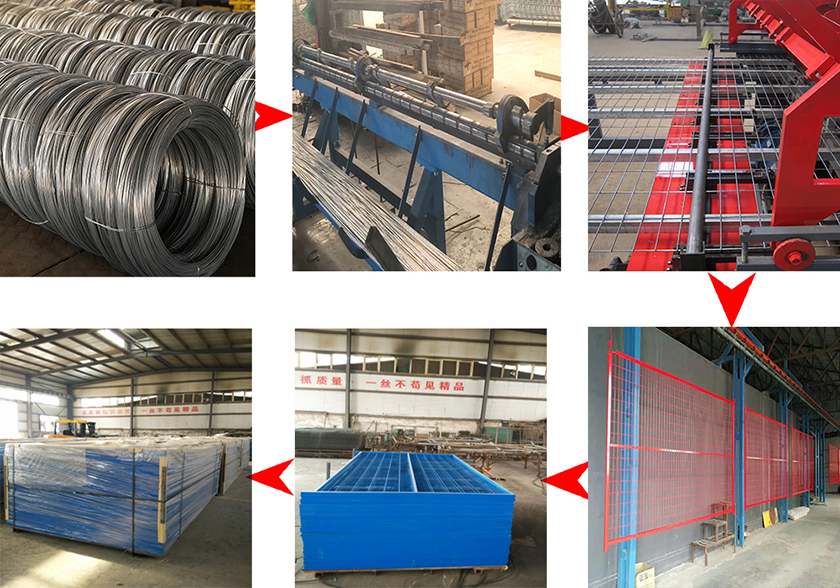 Loading & Packaging of Canada Temporary Fence
Customers can choose two types of loadding method for canada temporary fence: in bulk or in steel pallet.
Method 1 : In Bulk loading for Canada Temporary Fence
Without pallets, the panels will be loaded piece by piece into the container. It increases the capacity of the container and reduces the cost of fencing. However, unloading requires manual handling and is suitable for developing countries.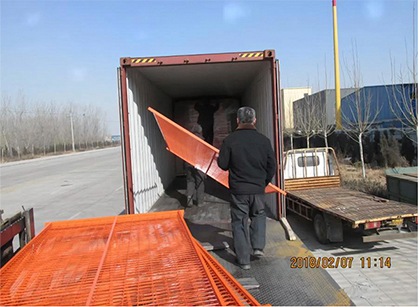 Method 2 : Steel pallets for Canada Temporary Fence
Panels, feet and clips will be placed on steel pallets and wrapped in plastic wrap and cardboard panels to prevent any scratches on the surface of the fence. The edges of the entire pallet are protected with iron corner guards and finally secured with nylon tape. The rigorous and careful packaging ensures that the mesh will not be damaged during transport and handling.