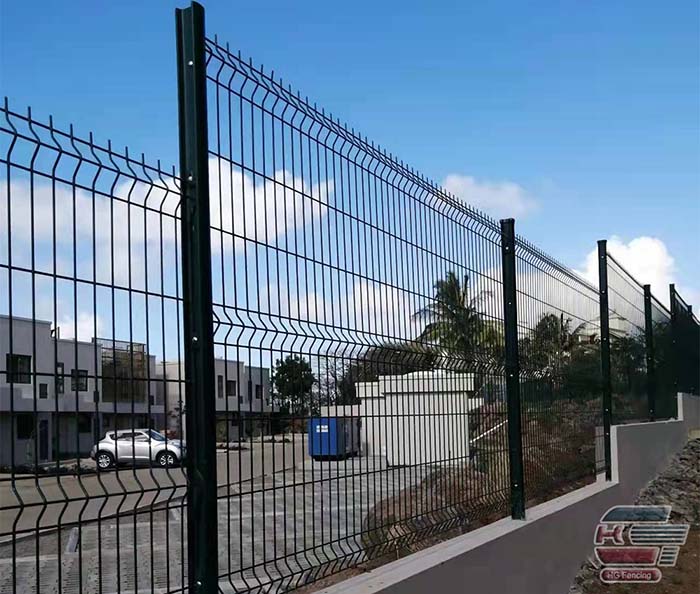 Description of H Post Fence
H Post Fence is composed of H post and 3D curved mesh, double horizontal mesh or common mesh.
▶ As the posts and mesh of H Post Fence are PVC coated after galvanization, so it can effectively prevent corrosion.
▶ H post fence is quick and easy to install, cost effective and has high strength and durability.
▶ There are many specifications and colors to choose from, which can meet the different needs of customers.
▶ HG Fencing provide a complete set of fence, including matching accessories as well as technical guidance.
Specification of H Post Fence
Welded mesh panel:

3D curved fence panel is made of high quality steel wire. These bends will significantly enhance the sturdiness of the mesh, and there are different numbers of curves on the safety fence panels depending on the height.
Technical Parameters:
Height
wire diameter
Mesh opening
Bending mesh
Panel Width

830mm

3.0mm- -6.0mm

50* 100mm 55*100mm 50*200mm 55*200mm

50*200mm 55*200mm 50*100mm 55*100mm

2.5m or 3.0m

1030mm

1230mm

1430mm

1530mm

1730mm

1830mm

2030mm

2430mm

2530mm

Surface treatment:

1: hot dipped galvanized after welding

2: powder coated after galvanized wire welding

3: PVC coated after galvanized wire welding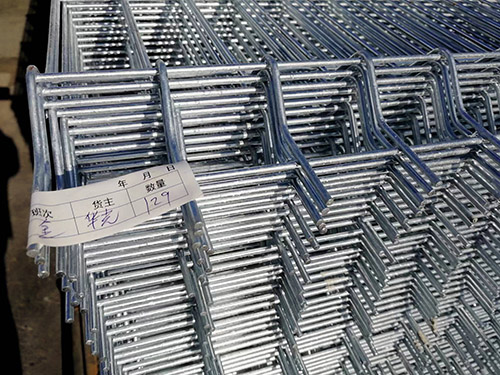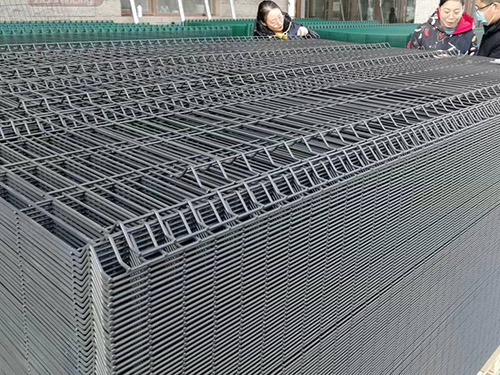 Bending Type of mesh panel:

● Height: 630 mm, 830 mm, 1030 mm, 1230 mm (2 curves).
● Height: 1530 mm, 1730 mm (3 curves).
● Height: 2030 mm, 2230 mm, 2430mm (4 curves).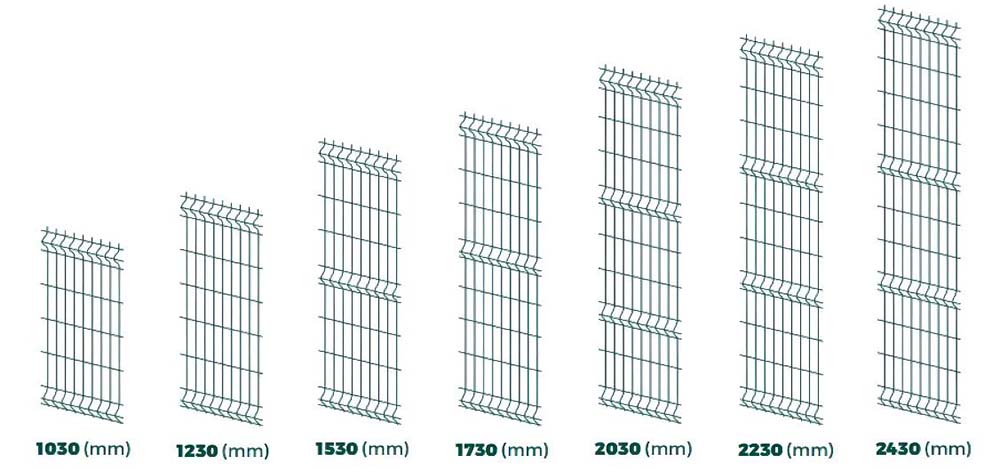 H Post (I Post):
H post is made of high quality steel plate rolled into an oval shape at both ends and recessed in the middle to form a flat surface, with a hole punched in the middle of the surface and connected to the mesh by bolts. The strength is very high and can withstand strong wind and impact without deformation.
● Material: low carbon steel or hot rolled steel.

● Popular Size: 55 * 100 mm, 40 * 70 mm etc.
● post thickness: 1 mm - 2.0 mm
● post length: depending on the height of the mesh, or special sizes can be customized upon request.
● Surface treatment:hot dipped galvanized, PVC coated or powder coated after galvanized.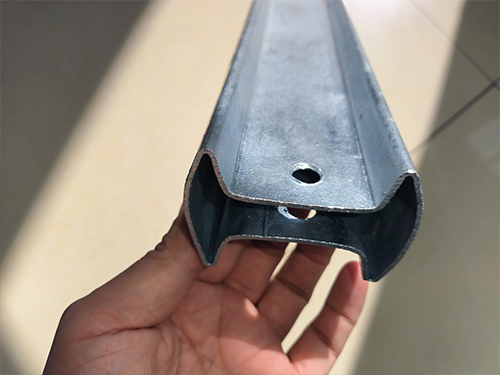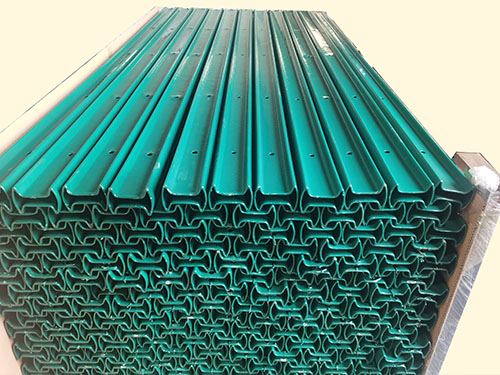 Common Size of H Post:

Surface Treatment of H Post Fence:

1. Hot Dipped Galvanized
Through the Hot dipped galvanizing process after welding, a protective layer is formed on the steel surface. This coating can effectively prevent oxidation corrosion and prolong the service life of steel.
2. Plastic Coating (PVC Coating) or Powder Coating after galvanized.
We choose high quality powder for spraying, which combines with the galvanized layer on the steel surface to form a more effective protective layer. It can better prevent the steel from oxidation and corrosion, Therefore, our fencing system can stay beautiful and strong for a longer time, and this treatment will make the fence more beautiful.
The difference between PVC coating and powder coating :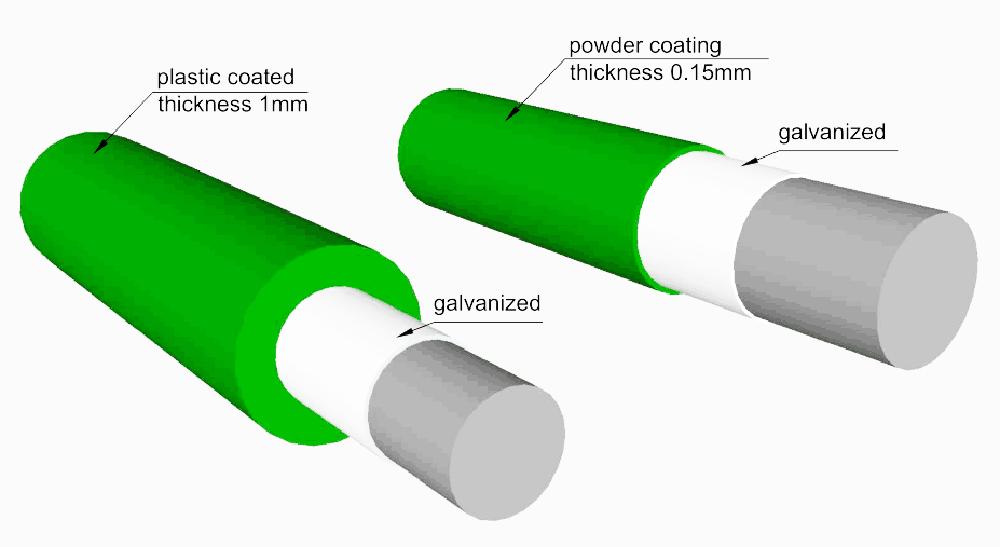 Details of H Post Fence

Mounting method of H Post fence:
The panels are mounted on both sides of the posts by special small metal clips and security screws, which are strong and durable for the guardrail and will not be easily damaged.
We provide all necessary installation accessories and can customize all kinds of metal fence and gates.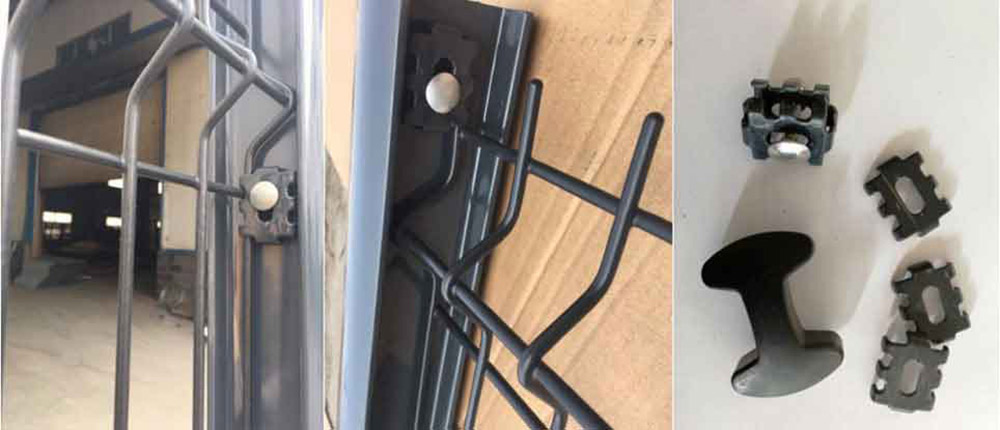 Popular Colors of H post fence
RAL 6005 green, RAL 7016 grey, RAL 9005 black are common colors, all RAL colors can be customized.