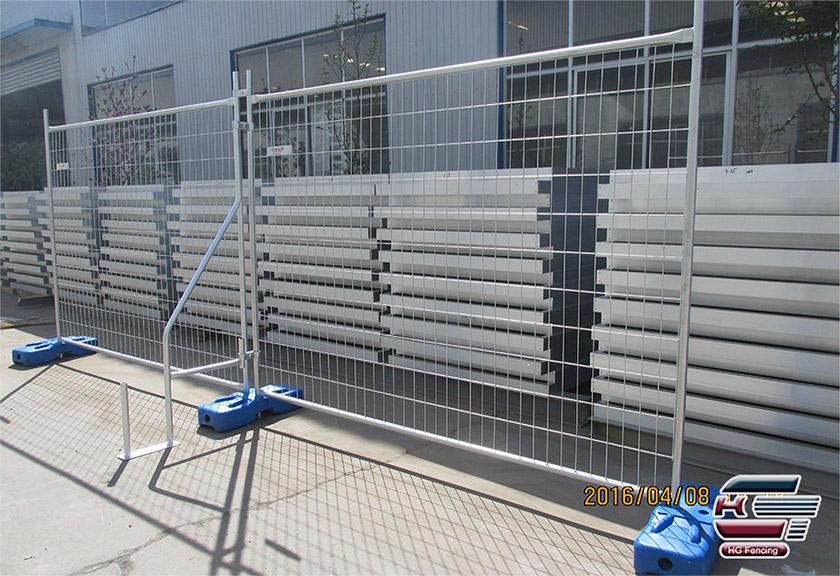 ☼ Description of Australia Temporary Fence

Temporary fence, known as portable fencing, which consists of fence panels, bases and clips. It is a non-drilled, self-supporting fence (no drilling is required to protect the road surface). The temporary fence panels are held together with clips and have brackets fixed to the side of the mesh panels so it will be very strong. It is very easy to install and remove and can be used flexibly in a variety of applications.
The frame is round tube welded temporary fencing often referred to as Australian temporary fence. Temporary fence is widely used for temporary construction sites and temporary events such as concerts, parades etc. It is widely used in markets such as Australia, New Zealand and Canada.
☼ Temporary Fence Features
• Easy to install: temporary guardrail panels can be easily installed and removed, and are easy to transport and store. Saves labour costs.

• Durable: although the fence panels are for temporary use, they are very durable due to their galvanised surface and high corrosion resistance.

• Cost savings: Temporary fencing can be reused and is less expensive, compared to traditional fencing.

• Optional: the plastic base of the temporary fence can be filled with water or cement. (The cement-filled base is already filled at the factory.)

• Reliable supplier: Hua Guang is a well-known portable fencing supplier with more than 20 years of production experience. The product quality is stable and the after-sales service is perfect.

☼ Technical Parameters of Australia Temporary Fence
• Material: High strength galvanized wire and galvanized pipe

• Base Material: plastic base, iron plate base, rubber base
temporary fence

Wire diameter

2.50mm, 3mm, 3.5mm, 4mm, 4.5mm, 5.00mm

Welded mesh opening

60x150mm, 75x75mm, 75x100mm, 60x75mm etc

Chain link mesh opening

50x50mm, 60x60mm,75*75mm

Fence frame pipe

25mm O.D., 32mm O.D., 40mm O.D., 42mm O.D., 48mm O.D. etc

Dimensions

2.1x2.4m, 1.8x2.4m, 1.8x2.9m, 2.25x2.4m, 2.1x2.6m, 2.1x3.3m etc

Material

Carbon steel wire

Surface treatment

Hot-dipped galvanized or electric galvanized

Base & Accessories

plastic/concrete fence base,Iron plate base,

rubber base,

clamps and stays and etc.

different specifications are available according to your needs
☼ Details of Australia Temporary Fence

☼ Temporary Fence Clamps:
The clips and screws are hot-dip galvanized and very strong and durable. It is used to connect two pieces of mesh panels, which can make the fence form a whole, making the fence more strong.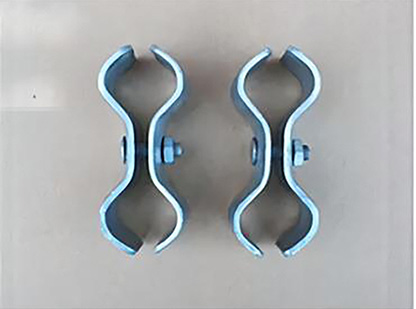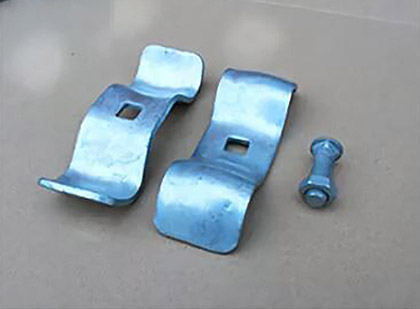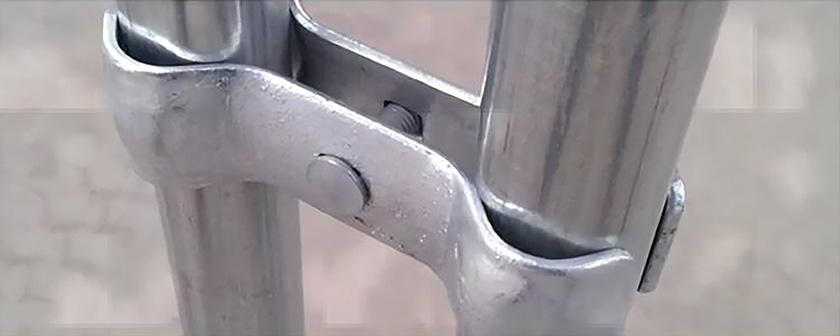 ☼ Temporary Fence Bracket/support:
The Brackets are hot-dip galvanized, can provide effective support for the temporary fence and enhance the sturdiness of the fence. The bracket support can be placed on a concrete-filled base or a water-filled base so that the fence can withstand a large impact without tipping over.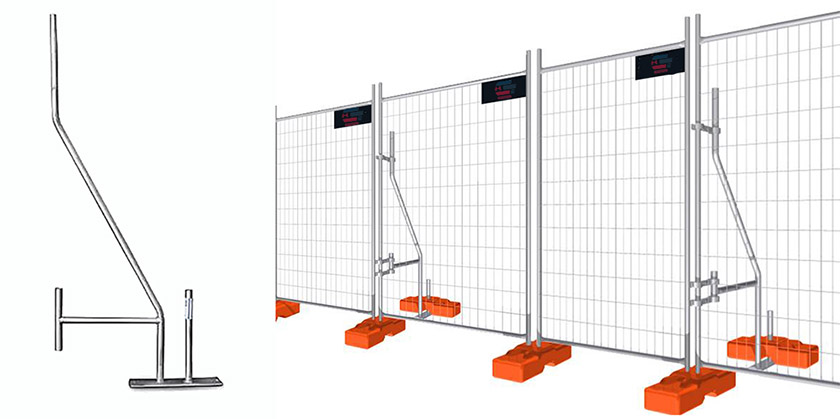 ☼ Temporary Fence Base:
There are Three types of fence bases: plastic base,iron plate base and rubber base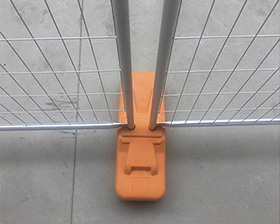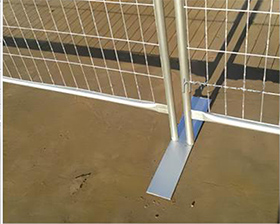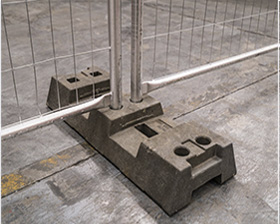 We offer various styles of plastic bases: those that can be filled with water, and those that can be filled with concrete. These bases provide excellent reinforcement of the temporary fence, making it more stable and sturdy.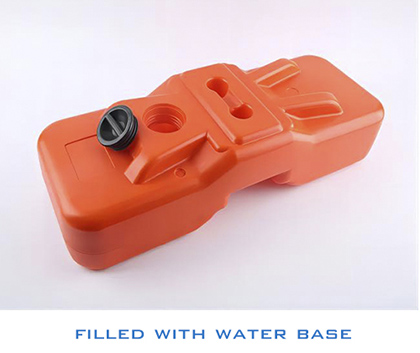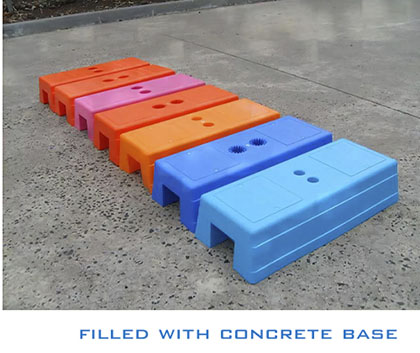 More types of plastic fence bases for you to choose from: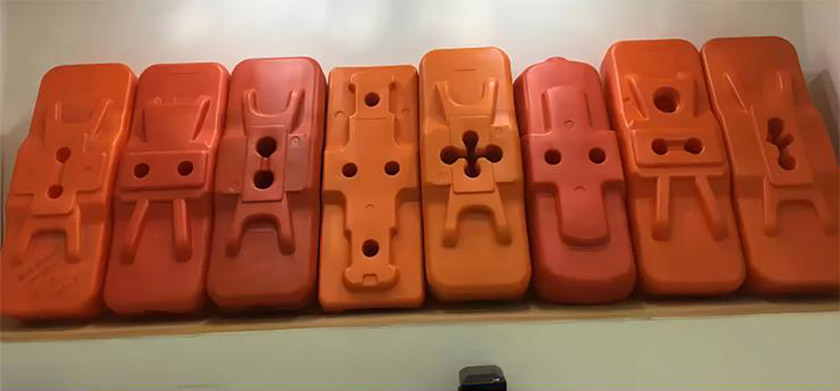 ☼ Temporary Fence Gate:
are of simple construction and can be custom manufactured if other styles are available.
☼ Production of Australia Temporary Fence

High-strength galvanized wire is straightened and cut off, and welded into mesh panel by automatic welding machine, while galvanized pipe is welded into frame. Then welded together, polished the welded joints, sprayed anti-corrosion paint or hot dipped galvanized, and finally packed.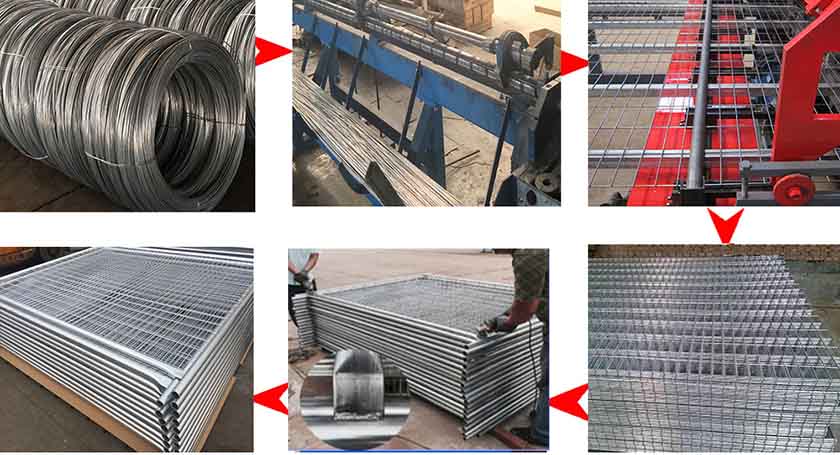 ☼ Loadding Method of Australia Temporary Fence

Customers can choose two types of loadding method for canada temporary fence: in bulk or in steel pallet.
The higher volume of bulk loading allows the container to be loaded in more temporary fence panels without packing costs, but with higher handling costs.
Packing in pallets saves loading and unloading time and handling costs, but requires packing costs.