Description of Steel Picket Fence
Steel Picket fence, also known as zinc steel fence or tubular steel fence, consists of vertical tubes, horizontal rails, spearheads, fence posts and accessories. The horizontal railing and vertical railing are composed of mesh, which is connected to the posts by anti-theft screws. The style is beautiful and diverse, which is perfect for parks, houses, yards and other places.
▶ You can choose assembled type or welded type, a variety of styles to choose from, easy to install.
▶ It is generally welded with galvanized pipe and then coated with powder, which is very anti-corrosive and can be used for more than ten years.
▶ HG Fencing provides a complete set of fence, including matching accessories as well as technical guidance.
▶ If you need a free sample of steel picket fence, please Click Here.
Specification of Steel Picket Fence
Technical Parameters:
Material

Galvanized steel Q195 or Q235

Panel size(mm)

1800L x 1500H, 2100L x 1800H, 2400L x 2100H, etc.

Rail size (mm)

25 x 25mm, 40 x 40mm, 60 x 60mm, etc.

Pickets size (mm)

15 x 15mm, 20 x 20mm, 25 x 25mm, etc.

Square Post (mm)

50 x 50mm, 60 x 60mm, 80 x 80, 100 x 100, etc.

Finish

galvanized and powder coated

Accessories

posts, brackets, bolts, nuts, anti-theft screws

Other lengths, widths and specifications can be customized
Surface Treatment:

1. Hot Dipped Galvanized
Through the Hot dipped galvanizing process after welding, a protective layer is formed on the steel surface. This coating can effectively prevent oxidation corrosion and prolong the service life of steel.
2. Plastic Coating (PVC Coating) or Powder Coating after galvanized.
We choose high quality powder for spraying, which combines with the galvanized layer on the steel surface to form a more effective protective layer. It can better prevent the steel from oxidation and corrosion, Therefore, our fencing system can stay beautiful and strong for a longer time, and this treatment will make the fence more beautiful.
The difference between Plastic Coating and Powder Coating after galvanized: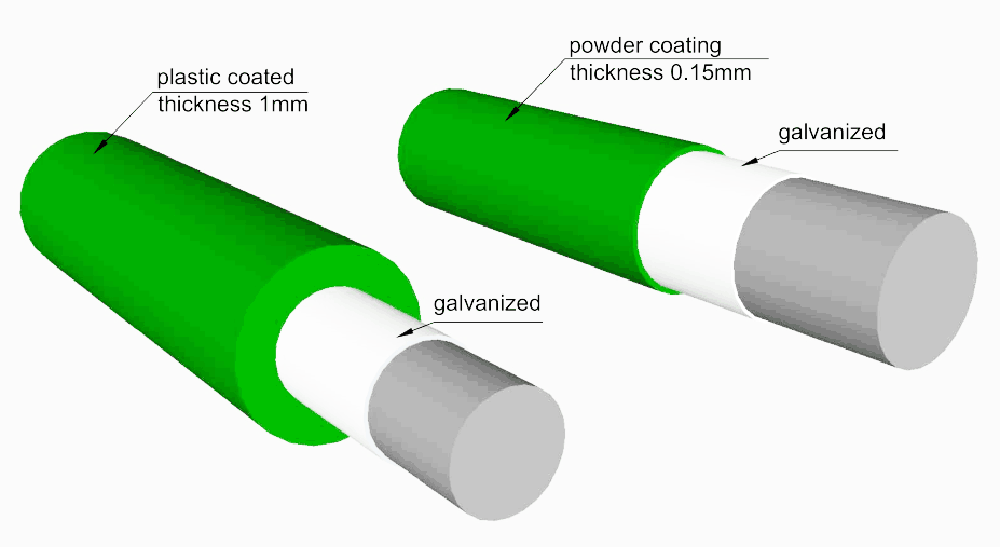 Product structure
1 fence set = 1 fence panel + 1 fence post + accessories (brackets, bolts&nuts, anti-theft screws)

Details of Steel Picket Fence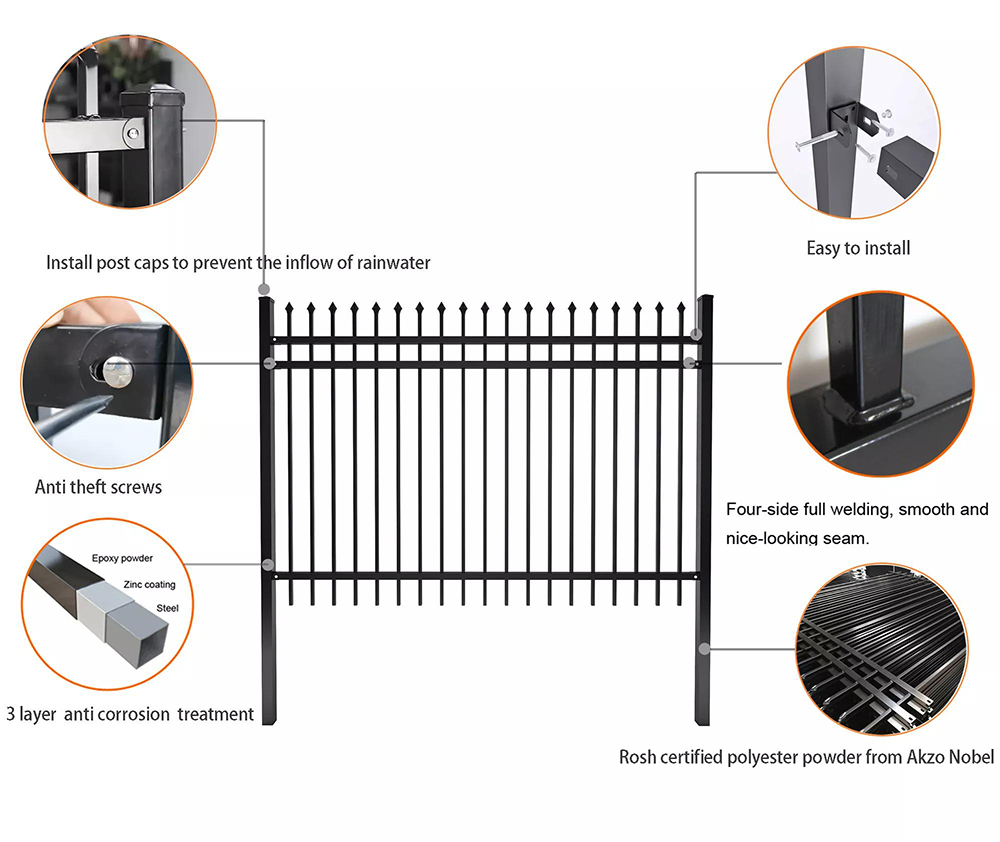 Popular Types: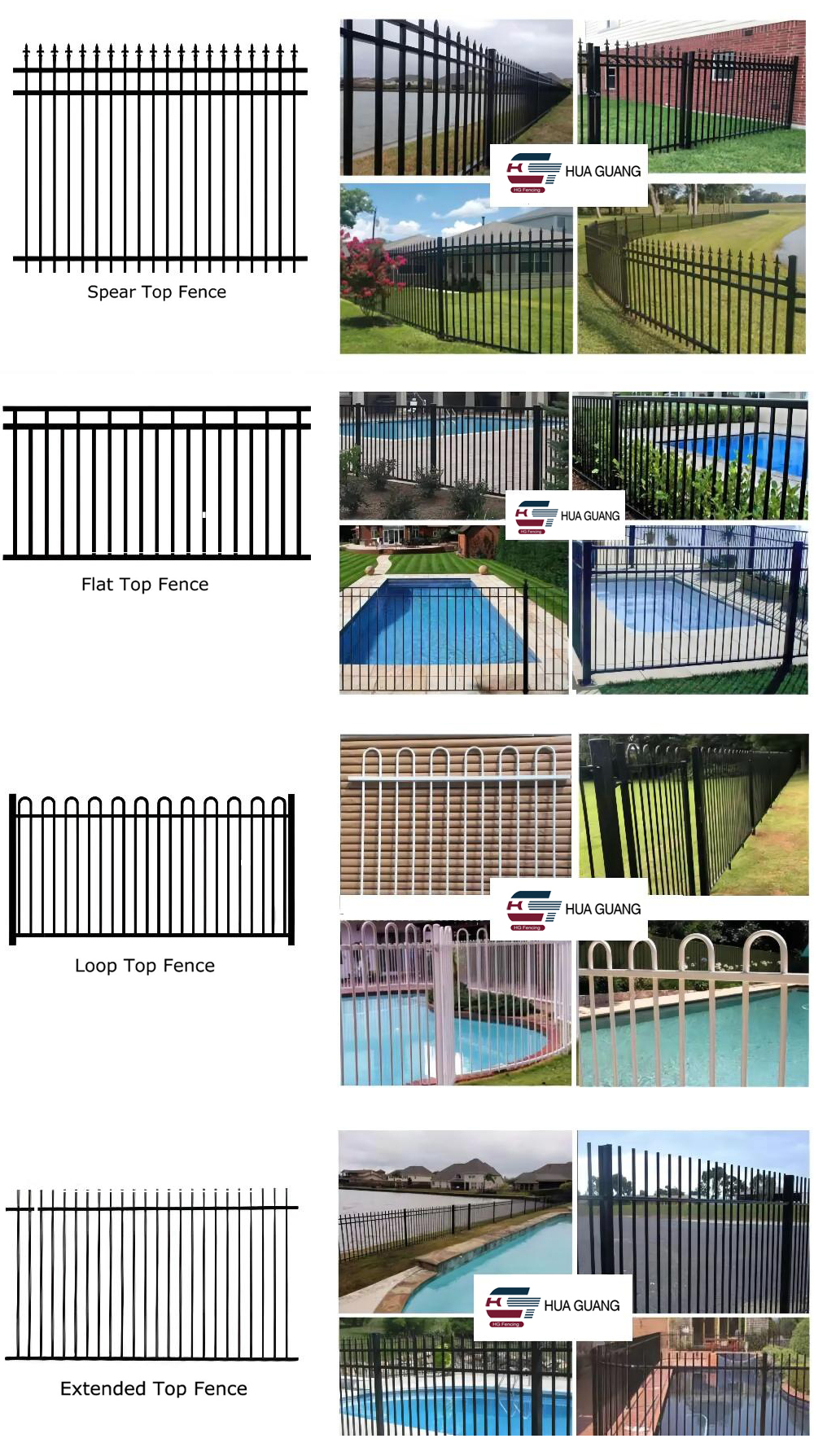 More Types of Spear Top Fence: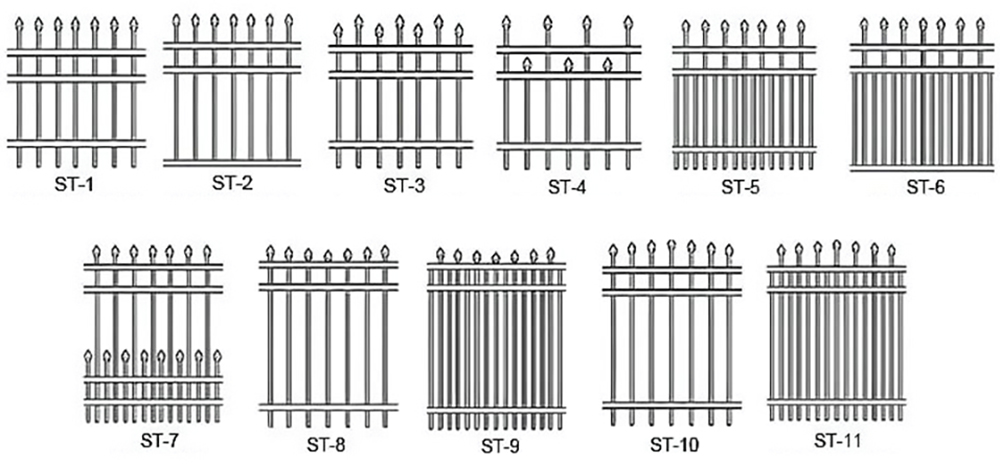 More Details: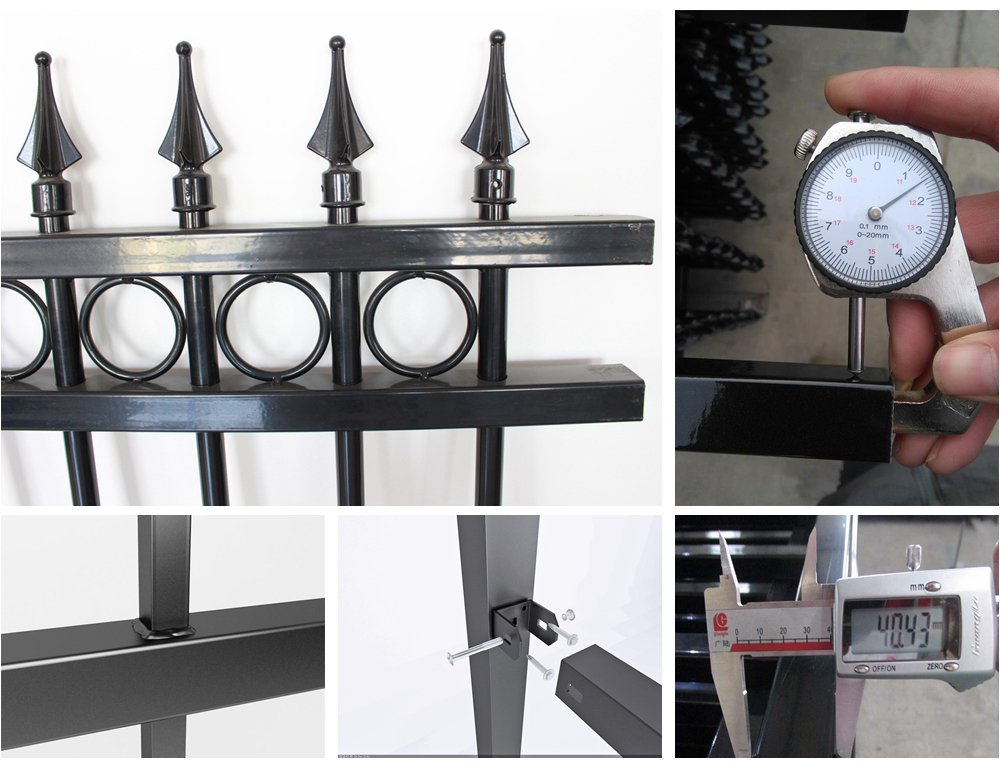 Packing of Steel Picket Fence
We put bubble film between each piece of mesh, put it on an iron pallet, fix it with strapping tape, then, wrap it with plastic film, and reinforce the corner protector with cardboard. Or we secure it with strapping tape and put it in a wooden box. When you load or unload them, you just need to operate the forklift to put the packages into the container or your warehouse, very convenient.